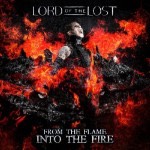 Schon seit Beginn ihrer Karriere bringen die Hamburger von Lord of the Lost in bemerkenswert kurzen Abständen Alben oder EPs auf den Markt. Für Fans und Freunde der Band eine runde Sache, solange die Qualität nicht leidet.
"From the Flame into the Fire" ist nun bereits der vierte Longplayer und polarisierte im Vorfeld vor allen Dingen mit der Single "La Bomba" und dem dazugehörigen Video. Mit "Fists up in the air" startet das Album nach einem verhältnismäßig ruhigen Intro genau so, wie der Songtitel es erwarten lässt: Hart. "Kingdom Come" ist ein solider Song, dem es jedoch nicht gelingt, besonders hervorzustechen. "La Bomba" ist ohne Zweifel der polarisierendeste Song, den die Hamburger Band bisher veröffentlicht hat. Die Geister scheiden sich hier zwischen Hass und Liebe. Ob man den Song nun mag oder nicht, im Ohr hängen bleibt er auf jeden Fall.
Etwas abrupt startet "Afterlife", mausert sich in seiner Gesamtheit mit gelungenen Strophen und einem eingängigen Refrain zu einem der Highlights des Albums. "Kill it with Fire" schlägt gleich darauf wieder härtere Töne an und punktet vor allen Dingen mit Intro und Refrain. Ebenfalls ohne Frage ein Anspieltipp. Ein ruhiger und besonders gelungener Song ist "Six feet Underground", der wohl am ehesten an die ersten Alben der Hamburger erinnert. Vor allen Dingen der Refrain bleibt bereits beim ersten Hören im Ohr hängen. Qualitativ eher im oberen Mittelfeld des Albums reiht sich "Go to Hell" ein und auch bei "Odium" und "My own Shadow" benötigt es mehr als einen Durchlauf, bis man mit den Songs so richtig warm wird. "Bitch" ist trotz des simplen Titels, der beinahe etwas einfallslos wirken will, einer der Anspieltipps des Albums. Tanzbar und eingängig ohne dabei ins poppige abzudriften. "I'll sleep when you're dead" bietet treibende Gitarren und aggressive Gesangsparts kombiniert mit einigen fast schon ruhigen Passagen. Bei "Holy F" bleibt auch nach mehrmaligem Hören ein eigenwilliger Beigeschmack. Die chorähnlichen Gesänge wollen einfach nicht so recht ins Gefüge des Songs passen. "In a perfekt world" lässt das Album schließlich verhältnismäßig ruhig ausklingen und bietet vor allen Dingen einen eingängigen Refrain.
Zusammengefasst ist "From the Flame into the Fire" ein recht gelungenes Album mit Höhen und Tiefen. Jedoch zeichnet sich hier ab, dass es für die Qualität eines Albums manchmal besser ist, sich ruhig ein wenig mehr Zeit zu lassen. Mit dem Vorgänger "Die Tomorrow" kann das neuste Werk leider nicht mithalten.
Das Album ist in den unterschiedlichsten Version erschienen, darunter als Limited Box-Set, also Deluxe Edition mit 2CDs, Album und als Download (Amazon, iTunes).
Trackliste:
CD 1:
01. Fists Up In The Air
02. Kingdom Come
03. La Bomba
04. Afterlife
05. Kill It With Fire
06. Six Feet Underground
07. Go To Hell
08. Odium
09. My Own Shadow
10. Bitch
11. I'll Sleep When You're Dead – Lord Of The Lost / Blair, Douglas Of W.A.S.P.
12. Holy F – Lord Of The Lost / Jiers, Nina Of Neopera
13. In A Perfect World
CD 2 – Deluxe Edition und Box-Set:
14. See You Soon (Svbway To Sally Remix) [Explicit]
15. Kill It with Fire (But Kill It Good) (Rabia Sorda Version) [Explicit]
16. Eure Siege (Ost+Front Version) [Explicit]
17. Heart for Sale (Darkhaus Remix) [Explicit]
18. Die Tomorrow (The Day After) (Remix by Letzte Instanz) [Explicit]
19. Blood for Blood (A Life Divided Club Remix) [Explicit]
20. Sex on Legs (Formalin Clubmix) [Explicit]
21. Prologue (Mental Breakdown Remix) [Explicit]
22. I'll Sleep When You're Dead (Massiv In Mensch Remix) [Explicit]
23. Nothing Words Can Say (Noodlz Remix) [Explicit]
24. My Heart Is Black (The Law Remix) [Explicit]
25. Break Your Heart (Stahlmann Remix) [Explicit]
26. Do You Wanna Die Without a Scar (Hell Boulevard Version) [Explicit]
27. My Own Shadow (Latexxx Teens Version) [Explicit]
28. Blood for Blood (Ein Walzer für Klarinette und Pianoforte) (Le Comte Caspar Remix) [Explicit]
29. Die Tomorrow (Swing Tomorrow Version by Rocksin) [Explicit]
30. Sex on Legs (Hotel Lounge Version) [Explicit]