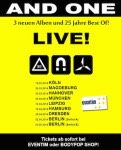 And One haben drei Titel online gestellt, jeweils einen von den drei geplanten Veröffentlichungen aus der geplanten Trilogie 1.
And One, aktuell auf Tour, planen für das aktuelle Jahr, drei neue Alben die unter dem Titel "Trilogie 1" erscheinen sollen.
Jedes Album wird dabei seinen ganz eigenen Stil haben.
Da ist das Album Magnet, das sich dem Synthie-Pop widmet und von dem der Song "Unter meiner Uniform" auf Youtube veröffentlicht wurde.
Das zweite Album soll vor allem Songs im Old-School-EBM Stil beheimaten und wird "Propeller" heißen. Aus diesem Album kann man sich den Song "Black Generation" in voller Länger anhören.
"Achtung 80" ist das dritte Album und der Name Programm, es handelt sich dabei um Songs im 80iger Jahre Fun Synth-Pop. Beispielhaft dafür wurde der Song "Bad Girl" veröffentlicht.
Sie Songs sind in dem Youtube Kanal von And One erschienen, ich habe die Titel in eine Playliste zusammengefasst:
http://www.youtube.com/watch?v=mWP43gWEMfg&list=PLDQE6k3HnIiT4z_gIMHZWwJHhwdyRIbXj
And One sind aktuell noch bis Mai 2014 auf grosser Forever-Tour:

Zur Zeit keine Konzerte bekannt