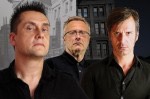 "The Machinists of Joy", so der Titel des ersten Studioalbums seit 1997 zeigt schon wohin die Reise geht. Zurück in die gute alte Zeit von Die Krupps.
1989 erschien mit "Machineries of Joy", in Zusammenarbeit mit Nitzer Ebb, einer der EBM-Klassiker. Mit "The Machinists of Joy" will man an die damaligen Veröffentlichungen anknüpfen. Also mehr Elektro statt Gitarre und eher EBM als Industrial.
Das Album erscheint am 25.10.2013. Auf Amazon wird bereits ein Box-Sets mit Doppel-CD angezeigt über deren Inhalt ist aber noch nichts bekannt. Bekannt dagegen ist das es auf der CD 11 neue Stücke zu hören + 2 Bonus Titel.