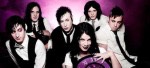 Chibi und Co. von The Birthday Massacre sind im März und April auf Europa-Tour, drei Termine sind auch in Deutschland geplant. Auch ein neues Album steht in diesem Jahr noch an.
Das neue Album, das noch keine Titel hat, kann aktuell über die Crowdfunding Plattform Pledgemusic.com mitfinanziert und damit auch vorbestellt werden. Für 10$ gibt es den Download und für 30$ zusätzlich das signierte Album. Es gibt auch noch viel weitere so genannte Pledges (Unterstützerpakete). Das Ziel der Finanzierung haben The Birthday Massacre ziemlich schnell erreicht, kann aber natürlich trotzdem noch vorbestellen. Da noch gut 220 Tage Geld ausgegeben werden kann, wird das Album wohl erst gegen des Jahres erscheinen.
www.pledgemusic.com/projects/thebirthdaymassacre
In den kommenden Monaten sind The Birthday Massacre in Europa auf Tour unterwegs. Drei Termine sind auch in Deutschland geplant, wovon einer im Rahmen des Out of Line Weekender stattfindet.
Alle anderen Termine finden hauptsächlich in Osteuropa und Russland statt.
www.thebirthdaymassacre.com
www.facebook.com/TheBirthdayMassacre
Zur Zeit keine Konzerte bekannt