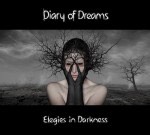 Die deutsche Elektro-Rockband Diary of Dreams veröffentlicht am 14.03.2014 ihr neues Album, dessen Titel und Cover mittlerweile bekanntgegeben wurde. Im April geht es dann mit den neuen Songs im Gepäck und zusammen mit in Strict Confidence auf Tour.
Das neue Studioalbum von Diary of Dreams hört auf den Namen "Elegies in Darkness" … Elegies oder auf deutsch Elegien sind Klagegedichte mit traurigen Themen und die eine schwermutige oder sehnsuchtsvolle Stimmung transportieren.
Eine Trackliste ist noch nicht bekannt obwohl das Album bereits in zwei Versionen vorbestellt werden kann. Einmal eine Deluxe Version und einmal als normales Album.
im April sind Diary of Dreams dann in Deutschland auf Tour, zusammen mit In Strict Confidence.
Zur Zeit keine Konzerte bekannt
Das neue Album von Diary of Dreams auf Amazon vorbestellen.