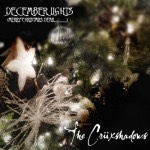 The Crüxshadows haben auf ihrere Homepage einen Weihnachtssong zum Download zur Verfügung gestellt. Das kleine Weihnachtsgeschenk gibt in verschiedenen Formaten mit Songtext und Cover.
Den Download findet man auf der Homepage unter dem längeren Post "December Lights", so auch der Titel des Songs. Neben dem aktuellen Weihnachtssong von The Crüxshadows gibt es auch noch ältere Weihnachtstitel zum Download.
Als Formate stehen MP3 und das Nachfolgeformat AAC zur Verfügung, bei zwei Songs auch das WAV-Format. Rechtsklick auf den Titel und "Speichern unter…" wählen (je nach Browser). Auf der Seite befindet sich auch ein Cover das man sich herunterladen kann und die Lyrics.