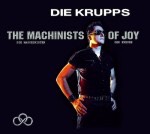 In den achtziger Jahren waren Die Krupps einer der Pioniere des EBMs, zu diesen Wurzeln will die Band mit "The Machinists of Joy" zurückkehren.
Bereits der Titel des Albums lässt aufhorchen und erinnert nicht ohne Grund an "Machineries of Joy" aus dem Jahr 1989.
Mit "The Machinists of Joy" kehren Die Krupps wieder zurück zu ihren Wurzeln.
In den 90iger Jahren wurde die Musik gitarrenlastiger und war eine Mischung aus EBM und das was man heute Neue Deutsche Härte nennen würde.
Mit der Single "Industriemädchen" die 2012 erschien und als Bonus Song auf dem Album enthalten ist, schlugen Die Krupps aber schon wieder zurück zum eher ursprünglichen EBM ein.
"The Machinists of Joy" ist ein hervorragendes EBM-Album geworden ohne dabei die "rockigeren" Elemente ganz aussen vor zu lassen. Das Album wird so zu einer interessanten Mischung.
Exemplarisch für diese Mischung steht der Song "Robo Sapien", der in Strophen nach EBM klingt und dessen Refrain dann eher nach Rock klingt.
Überwiegend gibt es aber sehr ordentliche EBM-Musik auf die Ohren und das ist auch gut so.
Trackliste:
1. Ein Blick Zurück Im Zorn
2. Schmutzfabrik
3. Risikofaktor
4. Robo Sapien
5. The Machinist Of Joy
6. Essenbeck
7. Im Falschen Land
8. Part Of The Machine
9. Eiskalter Engel
10. Nocebo
11. Im Schatten Der Ringe
Bonus-Tracks (Box & Limited Edition)
1. Nazis Auf Speed
2. Panik
3. Sans Fin
4. Neue Helden
5. Industrie – Mädchen
Bereits Anfang des Jahres veröffentlichen Die Krupps ein Video zu dem Titel "Risikofaktor" der sich auch auf dem Album befindet.
Das neue Album von Die Krupps bei Amazon, Poponaut oder iTunes kaufen.