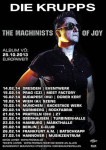 Am 25.10.2013 erscheint mit "The Machinists of Joy" das neue Album von Die Krupps. Im Februar 2014 geht es mit den Songs aus dem Album, in Deutschland, Österreich und der Schweiz, auf Tour.
10 Termine sind im deutschsprachigen Raum geplant, darunter auch der schon länger bekannte Auftritt auf dem E-tropolis Festival 2014. Dazu kommen noch jeweils ein Auftritt in der ungarischen und der tschechischen Hauptstadt.
Tickets für die Konzerte der The Machinists of Joy Tour 2014 von Die Krupps für den deutschsprachigen Raum gibt es auf Protain-Tickets, Eventim oder allen anderen bekannten Vorverkaufsstellen.
Zur Zeit keine Konzerte bekannt