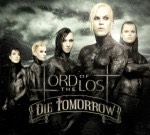 Live today – die tomorrow!
Was das gleichnamige, neue Album der sympathischen Hamburger Glam-Goth-Überflieger Lord Of The Lost wie ein Schlachtruf eröffnet, zieht sich auch als symbolischer roter Faden durch das gesamte neue Werk der Band: ehrlich, direkt, energiegeladen, experimentierfreudig, rau und so eingängig wie noch nie brettern die Songs aus den Boxen. Die Jungs um Stimmakrobat und Charmebolzen Chris "The Lord" Harms zelebrieren ihre neuen Stücke tatsächlich so, als gäbe es kein Morgen, legen die gesamte Verve, die ihre konkurrenzlosen live-Shows ausmacht, in die auf dem Album versammelten Darbietungen und zeigen sämtlichen Konventionen den Stinkefinger.
Auf "Die Tomorrow" flirtet Death Metal mit Disco, Industrial-Rock mit Electronica, Gothic mit Pop, um am Ende in einem bombastischen, fast Art-Rock-haften Finale zu münden … und trotzdem fügt sich das Gesamtbild so nahtlos zusammen, als wäre es das Natürlichste auf der Welt. Und inmitten dieses Hexenkessels liefert Chris Harms mit Blutengel-Sängerin Ulrike Goldmann in einem zusammen mit Martin Engler von Mono Inc. geschriebenen Stück eines der beeindruckendsten Szene-Duette der letzten Jahre ab. "Schubladen sind für Anfänger" müssen sich Lord Of The Lost gedacht haben.
Herausgekommen ist dabei schlicht und ergreifend das interessanteste und unterhaltsamste Album, das die dunkle Rock- und Metal-Szene seit langem hervorgebracht hat. "Die Tomorrow" erscheint auch als limitierte Doppel-CD in Digipak. Auf der darin enthaltenen Bonus-Scheibe findet sich nicht nur ein 20-minütiges Epos, sondern unter anderem auch energiegeladene Kollaborationen mit Alex Wesselsky von Eisbrecher und Erk Aicrag (Rabia Sorda, Hocico). Für die ganz harten Fans gibt es auch noch eine streng auf 500 Stück limitierte Holzbox, die neben der Doppel-CD noch eine live DVD, ein Fotobuch und eine Lord Of The Lost Flagge enthält.
Die streng limitierte Fan-Edition in edler Holzbox mit Branddruck enthält die  Doppel-CD-Version des Albums, inklusive Kollaborationen mit Ulrike Goldmann (Blutengel), Martin Engler (Mono Inc.),  Alex Wesselsky (Eisbrecher) und Erk Aicrag (Rabia Sorda, Hocico), sowie, als exklusive Beigaben, die DVD "Black To The Roots" (Chris Harms & Gared Dirge live und unplugged an Piano und Gesang), ein 56-Seitiges Hochglanz-Fotobuch mit Live-Fotografien von Mandy Privenau, eine Lord-Of-The-Lost-Flagge und eine von allen Bandmitgliedern handsignierte Autogrammkarte mit nummeriertem Echtheitszertifikat. Diese hochklassige Sonderedition ist ein Muss für Fans und ein exquisites Sammlerstück!
Trackliste CD
1. Live Today
2. Die Tomorrow
3. Black Lolita
4. Blood For Blood
5. Never Let You Go feat. Ulrike Goldmann (BLUTENGEL)
6.Shut Up When You're Talking To Me
7. Heart For Sale
8. From Venus To Mars
9. See You Soon
10. My Heart Is Black
11. Your Victories
12. Credo<
Trackliste Bonus CD
1. Letters To Home
2. Eure Siege feat. Alex Wesselsky (EISBRECHER)
3. Marching Into Sunset feat. Erk Aicrag (HOCICO, RABIA SORDA)
4. Words Of Sadness
5. The Eyes Of Love Are Blind (Part II)
6. Do You Wanna Die Without A Scar
Live DVD "Black To The Roots"
1. Prison
2. Epiphany
3. The Measure Of All Things
4. Beyond Beautiful
5. Words Of Sadness
6. October 29
7. Heart For Sale
8. See You Soon
Quelle: Out of Line Shop
Bei Amazon kaufen…