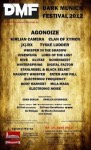 Am 14.04.2012 findet in München das Dark Munich Festival statt.  Gut 25 Bandsund Djs treten in der Theaterfabrik und in der Garage Del. Optimolwerke auf. Der Vorverkauf hat bereits am 10.01.2012 begonnen.
Bestätigte Bands:
Agonoize, Kirlian Camera, Clan of Xymox, [X]-RX, Tyske Ludder, Whisper in the Shadow, Eisenfunk, Lord of the Lost, Dive, Klutae, Schöngeist, Winterspring, Digital Factor, Stahlnebel & Black Selket, Naughty Whisper, Enter and Fall, Electronic Frequency, Body Harvest, Mila Masu und Electronic Noise.
Burlesque Shows:
Eden Berlin und Ophelia Overdose
DJ-Sets aus den Bereichen Electro, EBM, 80's & 90's Dark Wave, GothRock, Industrial mit:
Dj Toni (Eisenfunk), Dl-Team-DecaDance, DJ Metzger, DJ Mucky Reloaded
Ort:
Das Festival findet in der Theaterfabrik und im Optimol-Werk statt.
Optimol Werk & Theaterfabrik
Friedenstraße 10
81671 München
Beginn:
Das Festival beginnt um 14 Uhr, Einlass ist ab 13 Uhr.
Tickets:
Tickets gibt es ab 34€ im Vorverkauf oder für 39€ an der Abendkasse.
Dark Munich Festival Ticketshop
Eventim
Weitere Infos:
http://www.d-m-f.net